___________________________________________________________________________________________________________________
Snappy Repertoire – Patriot
I have had the pleasure of competing Patriot for his owner for the past couple of years, and am currently working on a plan to make him a permanent member of my string. He is a quirky little horse, standing only 15.3 hands, he is a stocky little quarter horse that I bought for a student because he was so clever and flawlessly brave at the fences. He is a full quarter horse and his compact chunky stature has him nicknamed Pastriot, but he loves a challenge, and the harder the excersizes get the more fun he thinks it is. He is also a dynamic mover that can be quite competitive in the dressage when he isn't busy giving his opinion about how it should be done. So with his owner going off to graduate school he made the trip to CA for with me this winter and ran his first preliminary in June placing 5th at Copper Meadows. I'm excited for his upper level career.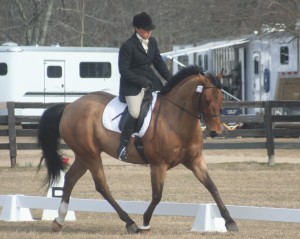 Click on images on right to enlarge or on the links below to see videos
___Patriot Jumping Video
___________________________________________________________________________________________________________________
Tango Yankee Man – Oliver
I started working with Oliver right off of the track (and winning on the track I might add). He had been turned out and whoever was managing him didn't realize that a big TB horse needs a lot of calories, so he was starving and beat up by the other horses. After cleaning him up I thought I would just free school him a little to see how he moved and felt. He was weak and had no extra energy but there was a rail laying in the ring and when he jogged over it he snapped his knees, bent his back, and hit the standard tops. After lots of eating (please sir can I have some more), he started his eventing career. He is a bit of an over achiever and very enthusiastic, he is the jock of my group, also nick named Bodie, because of his inclination to hurl into action with too much thought about what might be next. He has an amazing work ethic, loves to come out every day, and a great attitude. He is solidly running training and will hopefully start his upper level career this fall.
___________________________________________________________________________________
click to enlarge photos